How to Talk to Your Doctor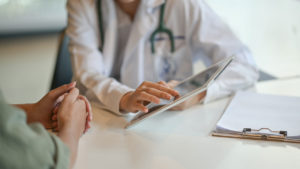 Part of advance care planning, is having conversations with your doctor about your wishes and goals of treatment during periods of serious illness, and at the end of your life. If you've spent any time at all at a doctor's office recently, you will likely agree that getting a doctor to sit down and talk with you for any length of time – about any issue – can be challenging. Demands on their time have increased, and they are limited in how much of their time and attention they can offer a patient during an office visit.
However, the Affordable Care Act has a provision that mandates payment to doctors for these conversations, and the Center for Medicare Services also has provided reimbursement to physicians for Voluntary Advance Care Planning appointments since 2016. 
Physicians may be reimbursed for ½ hour appointments for advance care planning, and may schedule additional appointments as needed due to changes in advance directives or patients wishes and goals. 
With their busy schedules, doctors are not likely to offer this time to you, but if you ask that they schedule a consultation with you for the purpose of discussing your advance care planning and end of life decision making, most will happily do so. But you'll have to ask. And you'll need to come prepared to make the most of this opportunity.
There are four things you need to do before your appointment:
Complete your advance care planning documents – Advance Directives for Healthcare, POLST form and DNR form, if applicable, and bring copies for your doctor to keep in your medical file;

Have the conversations with your loved ones about your healthcare goals and wishes; 

Make a list of the topics you'd like to talk about, and the questions you'd like to ask your doctor; and
Once you get into the consultation with your doctor, make sure you are heard.  Doctors can be very intimidating, so if you don't feel like you can make yourself heard, take someone with you to help you. It is important that you tell your doctor what your wishes are, and that you find out whether they will be able to comply with your wishes.  If your doctor cannot give you that assurance, then you should change doctors and find one who is willing to comply with your directives.
Explain to your doctor what your goals of care are and what your values and beliefs are around end of life care and decision making, talking about specifics such as: 
what your balance is between quality of life and longevity; 

whether you want a feeding tube if you have advanced dementia, cannot feed yourself, and no longer recognize your loved ones, or whether your would rather receive palliative care only; 

if you were terminally ill and in intolerable in intractable pain, would you want palliative sedation;

 if you were permanently unconscious, would you want a feeding tube, or other artificial means of extending your life; 

if you are in a nursing facility and likely to die within a year, would you want to complete a POLST form.
Also, be sure to talk about pain management. In the US, a patient's pain is often under-assessed and under treated. Speak up and be a complainer about your pain with your doctor. Tell them how severe your pain is, when and how it interferes with daily activities, and be completely honest.       
Even if your doctor is great at diagnosing and treating your illnesses and diseases, they may not be able to effectively treat your pain due to various reasons such as: lack of training, fear of scrutiny, lack of communication, or failure to refer you to a pain specialist. 
If pain is an issue for you, ask your doctor the following questions: have they been trained in pain management; will they prescribe opioid drugs for you if needed? If the answer to either of these questions is no, ask for a referral to a pain management specialist because you have a right to palliative care.
Finally, if you are not keeping a journal of your medical care, start one now. Record the notes from your meetings with your doctors, keep lists of your diagnoses and medications, and bring your journal with you each year to your advance care planning consultation.  This will help you and your doctor establish better communication about your treatment and healthcare wishes and directives.
If you would like more information on this topic, visit The Conversation Project website. They provide a downloadable guide with checklists to help you plan for a conversation with your doctor.